FMP data communications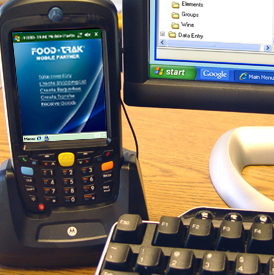 Inventory forms, purchase orders, transfers, requisitions and shopping list templates and static database items are easily and routinely downloaded to the FMP from the main FOOD-TRAK System (host). Users have the ability to send and receive data at
any time after a connection is made to the host web services. The FMP can communicate with the FOOD-TRAK System through a wireless approach, or using a cradle or communications cable. An internet connection is required for companies running FOOD-TRAK centrally who wish to leverage the world wide web for nationwide or international store connectivity.

Using a direct connection approach, data is communicated to the host when the FMP device is connected to a communications cable or cradle on a workstation. The host runs Microsoft Internet Information Services to handle the download and upload of data and forms to and from the device. With a wireless approach, data may
be communicated to the host without the need to cradle the device.