SCI's three decades of experience has resulted in a unique, comprehensive approach to food and beverage management. We work with clients to establish a bulletproof structure that results in maximum control with minimum effort – easily withstanding the comings and goings of key personnel. Our "F&B Integration Pyramid" represents that structure. Each section of the pyramid, starting at the base, lays the foundation for the next. Without the proper foundation, subsequent steps, such as automation, will ultimately fail.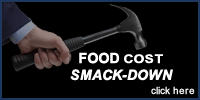 SCI's Food Cost Smack-Down is the
perfect first step towards F&B success!