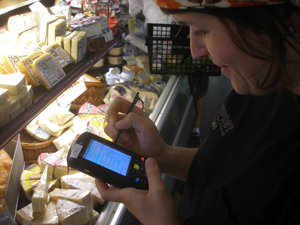 Specialty grocers in America are on the rise, reaching nearly $88.3 billion in sales in 2013, from $75 billion in 2011. This fast-growing industry features specialty foods, many of which are prepared in-house. Deli counters, meat counters, bakeries and flower shops are typically found in these stores, along with significant catering departments. In addition, many of these operations are comprised of multiple stores and use central kitchens or commissaries to create some of their products. Individual stores order these products from the commissary. In addition, in some cases these operations employ a centralized procurement process, aggregating purchase orders from individual stores and placing orders centrally.
The sheer complexity of this type of production environment results in a difficult control environment, leading to large losses from waste – in some cases as much as 25-30% of their production. No standard grocery systems, and very few other F&B management systems are capable of handling this environment properly.
The FOOD-TRAK System has been designed specifically to handle complex specialty grocers, providing centralized procurement, commissary operation, waste control and culinary controls including recipe costing and management, nutritional analysis, menu engineering and usage control. FOOD-TRAK also offers numerous mobile device options for scanning and data collection. Many of these functions were designed as a result of our extensive work with some of the industry's finest specialty grocer operations. The system even has the ability to quickly scan random weight items with labels generated by scale systems and convert the data to inventory units for fast, accurate inventory of items like cheeses and other bulk items broken down into smaller, saleable products.
Take control of your specialty departments, from the time items are requested to the time they are sold. Cost and labor savings are significant, and the SCI implementation team can typically get stores up and running in as little as 30 days. Profits improve immediately. Contact an SCI account manager to learn more.
"Our old method for inventory involved a 47 step process to update pricing within an Excel workbook. It used to take two people 2 weeks to complete inventory in the past. Now we have it down to just 3 days! With the FOOD-TRAK Mobile Partner, I count virtually the entire Deli in the same amount of time that it took to count about half of the back stock." Deli Manager - Ozark Natural Foods